April 16, 2018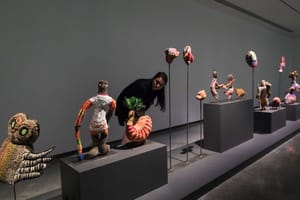 Yarrenyty Arltere Artists In Our Hands are soft sculptures made with bush dyed woollen blankets, embellished with wool and feathers for the 21st Biennale of Sydney.

SUPERPOSITION: Equilibrium & Engagement, Museum of Contemporary Art Australia, Sydney, 2018. Commissioned by the Biennale of Sydney with generous assistance from Georgie and Alastair Taylor.
Yarrenyty Arltere Artists Founded 2000 in Alice Springs, Australia Live and work in Alice Springs. Participating artists:
Cornelius Ebatarinja (Western Arrernte/Arrernte), Trudy Inkamala (Western Arrernte/Luritja), Roxanne Petrick (Alyawarre), Sonya Petrick (Eastern Arrernte/Alyawarre), Dulcie Raggett (Luritja), Marlene Rubuntja (Arrernte), Katherine Ryder (Eastern Arrernte), Rosabella Ryder (Arrernte), Dulcie Sharpe (Luritja/Arrernte), Rhonda Sharpe (Luritja)
Yarrenyty Arltere Artists is a not-for-profit Aboriginal owned and run art centre located in the Larapinta Valley Town Camp, Alice Springs, one of the oldest Town Camp communities on Arrernte country.
Yarrenyty Arltere Artists present a series of the whimsical soft sculptures that demonstrate the unique style for which they are renowned. Representing the past, present and future, the pieces reflect memory and traditional stories as well as exploring contemporary issues and challenges faced by the community. Embodying local flora and fauna, stories of family and country, or scenes from everyday life in the Town Camp, the sculptures are made from recycled woollen blankets which are dyed using local plants, tea and corroded metal. Embroidered with brightly coloured wool thread and embellished with feathers, the soft sculptures are filled with character and humour. They are emblematic of the vitality of the Town Camp and its people, and the ingenuity of the Yarrenyty Arltere Artists who, through creativity and perseverance, have reignited the confidence and spirit of their community.
April 16, 2018
ESTUDIO CAMPANA | YARRENYTY ARLTERE ARTISTS | ELLIAT RICH
NGV TRIENNIAL
Victoria Amazonica 2017, was created by Brazilian designers Fernando and Humberto Campana in collaboration with Yarrenyty Arltere Artists, designers Elliat Rich and James Young and the Centre for Appropriate Technology – all based in Alice Springs in the Northern Territory.
Based initially on a sketch Humberto Campana made in Alice Springs of a giant South American lily, this exuberant, large-scale soft domed structure features intricate embroidery by the Yarrenyty Arltere Artists that tells stories of rain, rivers and water.