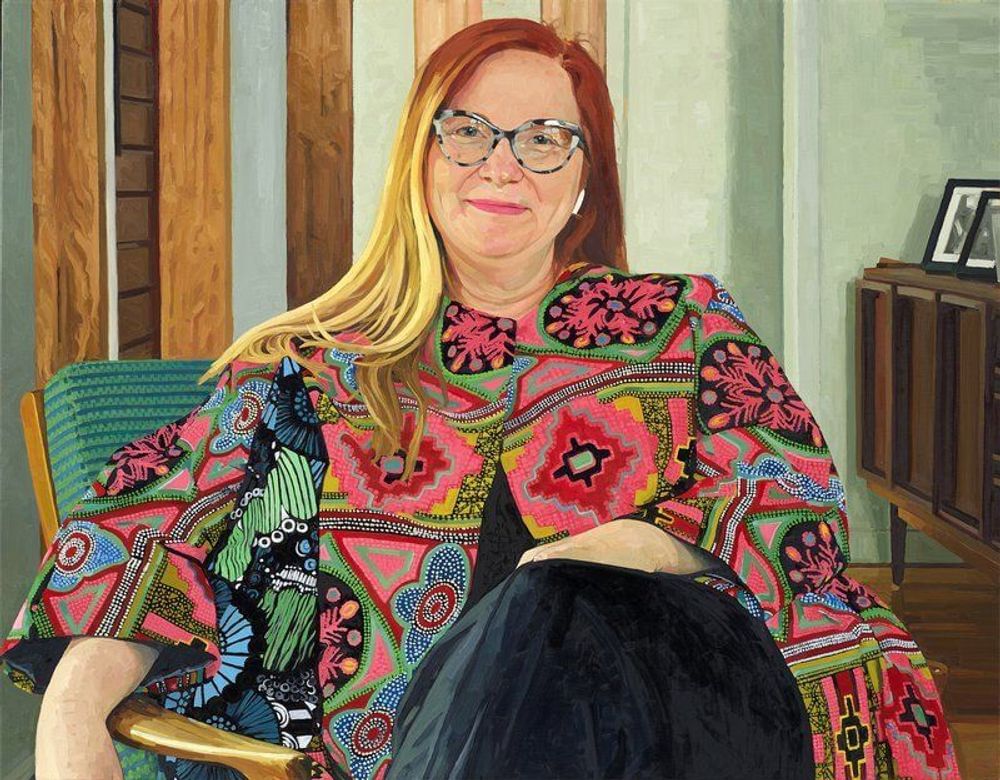 Judith Sinnamon is a finalist in the 2023 Archibald Prize.
Watching the ABC's political program Insiders, Queensland artist Judith Sinnamon was struck by Katharine Murphy's 'paintability'.
'Katharine often appears on the Insiders panel, where she brings a refreshing, cut-through perspective to the fug of Australian politics,' says Sinnamon. 'I feel tremendous gratitude towards Katharine and all journalists of strong conviction and integrity, who speak truth to power at a time of rampant misinformation and media mogul influence.'
Murphy has worked in the parliamentary press gallery in Kamberri/Canberra since 1996. She is currently political editor of Guardian Australia and the host of a weekly podcast, Australian politics. She is the author of On disruption, an analysis of the impact of the internet on journalism.
Sinnamon captures the award-winning journalist, with her colourful clothing and animated face, listening to the podcast Pod save America in her light-filled home.
'During our sitting, I drew loose charcoal sketches and took numerous photos,' says Sinnamon. 'I then returned to my [Sunshine Coast] Hinterland studio and began the month-long process of rendering Katharine's portrait – my first in the Archibald Prize.'
Read more here.
Artwork:

'Katharine Murphy'
oil on linen
104.2 x 134 cm