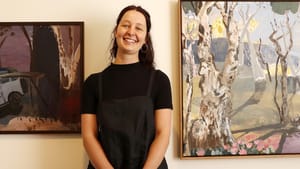 For the first time in its 22 year history, the Brett Whiteley Travelling Art Scholarship has been awarded to five artists, one of whom is Emily Imeson.
Congratulations Charlie Ingemar Harding (Victoria), Emily Grace Imeson (NSW), Dan Kyle (NSW), Lily Platts (NSW) and Georgia Spain (Tasmania).
Art Gallery of New South Wales Director, Michael Brand, said that in one of the most challenging years the arts community has ever experienced he's delighted that the Scholarship could be awarded, albeit in a different format.

'That the Scholarship this year is shared between five artists instead of a single artist speaks to the moment we're in, where we all need to work together and find new ways of thinking for the benefit of our community.
'The Scholarship remains a prestigious, national painting award and I welcome all five recipients to the Brett Whiteley Travelling Art Scholarship alumni who have, like Brett Whiteley before them, had their worlds open up as a result of being offered this opportunity to spend time creating work in a new location,' Brand said.